Alaska Trophy Moose Hunting

Our trophy moose hunts are conducted in the famous Wood River drainage. You'll be flown by bush plane to a remote airstrip where you'll be met by your guide and horses. From there a short 3 hour horseback ride will take you through a high mountain pass and drop you into a valley where your moose hunting adventure will commence the following day.
Our camp is located at timberline in this secluded valley, and consists of a cabin and 10x12 wall tents. The cabin will be your home for the duration of your hunt, where hearty home cooked meals will be prepared for you. The wall tents house the guides , horse tack and feed. A short 1 hour hike puts us on one of the many vantage points where we will glass for your trophy. All of the hunting is by foot after reaching camp, most animals are harvested within 2 miles.
As with our sheep hunts, we limit the number of hunters per year to help ensure quality trophies. The average antler width on the moose taken has been in the mid 60" range. The average shooting distance on our moose is 150 yards. A .30 caliber rifle is minimum on these hunts and I stress that my clients be proficient with their weapon.
Our moose spike camps consists of a 12x12 Alaknek deluxe tent used for cooking and a place to relax after a long day of hunting. Here you can dry your wet garments and such by the wood stove. Sleeping quarters consist of 9x9 Denali XWT tents with cots, lantern and propane heat if needed. No more than two clients are in the field at one time.
As with our main camp a short hike puts you on a spotting knob with a very commanding view of the surrounding area. Moose, grizzly, black bear, Dall sheep, caribou and wolves can be spotted from here. In these game rich areas I encourage clients to look over our combination hunt packages. Most moose are harvested within a few miles of camp and are brought back to camp with the horses. The horses will transport you, your trophy antlers, and 500 - 700 lbs of moose meat to the airstrip when the time comes for your departure as well. You will be very grateful for the horses by the end of the hunt.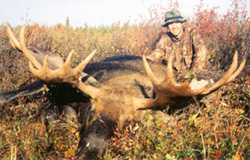 Castle Rock Outfitters
Alaska Big Game Hunting
PO Box 88
Healy, Alaska 99743
(907) 683- 1250
E-mail: castle@mtaonline.net
Home Page |Grizzly Bear| |Trophy Moose| |Dall Sheep| |Caribou|
|About Us| |Contact Us | |Prices| |Photo Gallery|

Alaska Dall Sheep Hunting | Alaska Trophy Moose Hunting | Alaska Caribou Hunting